Crag Information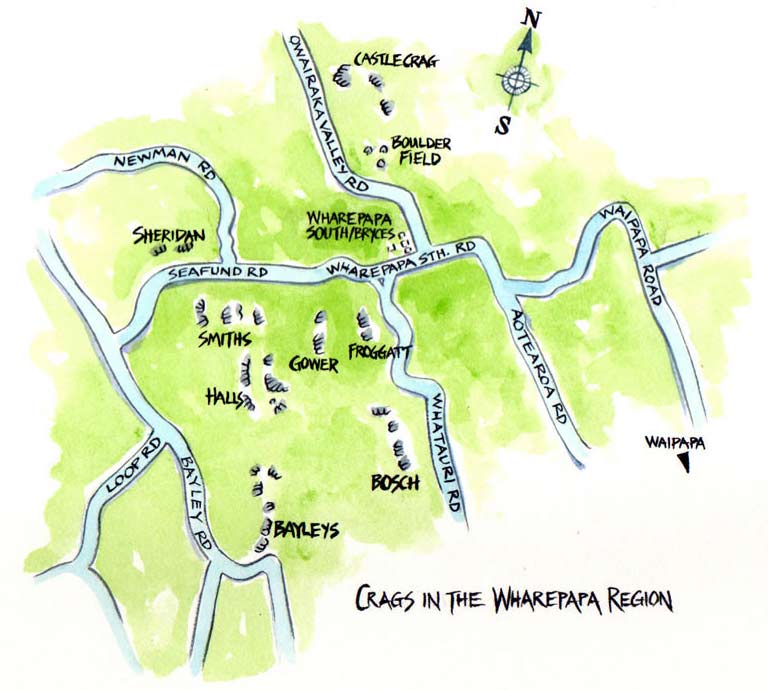 Wharepapa South is a year round venue for rock climbing. In summer when it is hot and the days are long you can climb early, then again late, or take advantage of the climbs facing all directions and follow the shade around. Winter climbing is preferred by some and at times gives better conditions. You won't sweat as much and the friction is great. You can often climb when there is rain about as ignimbrite does not become slick with water and dries quickly. Steep and overhanging routes are often completely dry after showers.
Access and Information
For up to date crag information, access and guide books please call at Bryce's.
The crags
Bayley Road
Number of Climbs – 71
Grade Range – 14 to 24
Type of Climbing – sports
Distance from cafe – 9km
NB: Bayleys Road is CLOSED to climbers during lambing 15 July to 20 August
Bosch
Number of Climbs – 23
Grade Range – 13 to 23
Type of Climbing – sports
Distance from cafe – 4km
Boulder Fields
Number of Climbs – 23
Grade Range – 15 to 22
Type of Climbing – sports & undocumented bouldering
Distance from cafe – 1km
Froggatt Edge
Number of Climbs – 120
Grade Range – 10 to 28
Type of Climbing – sports
Distance from cafe – 2.5km
Gower
Number of Climbs – 33
Grade Range – 15 to 23
Type of Climbing – sports
Distance from cafe – 2.5km
Halls
Number of Climbs – 22
Grade Range – 15 to 24
Type of Climbing – sports
Distance from cafe – 3km
Kinloch
Number of Climbs – 25
Grade Range – 11 to 20
Type of Climbing – sports & trad
Distance from cafe – 95km approx
Piarere
Number of Climbs –
Grade Range –
Type of Climbing – trad
Distance from cafe – 50km
Secret Valley
Number of Climbs – 100
Grade Range – 10 to 24
Type of Climbing – sports
Distance from cafe – 6km
Sheridan Hills
Number of Climbs – 41
Grade Range – 14 to 24
Type of Climbing – sports
Distance from cafe – 4km
Waipapa
Number of Climbs – 100+
Grade Range – 15 to 28
Type of Climbing – trad & sports
Distance from cafe – 30km
Whanganui Bay
Number of Climbs – 200+
Grade Range – 13 to 30
Type of Climbing – trad & sports
Distance from cafe – 95km approx
Waitomo
Number of Climbs – 162+
Grade Range – Up to V5
Type of Climbing – bouldering
Distance from cafe – 50km